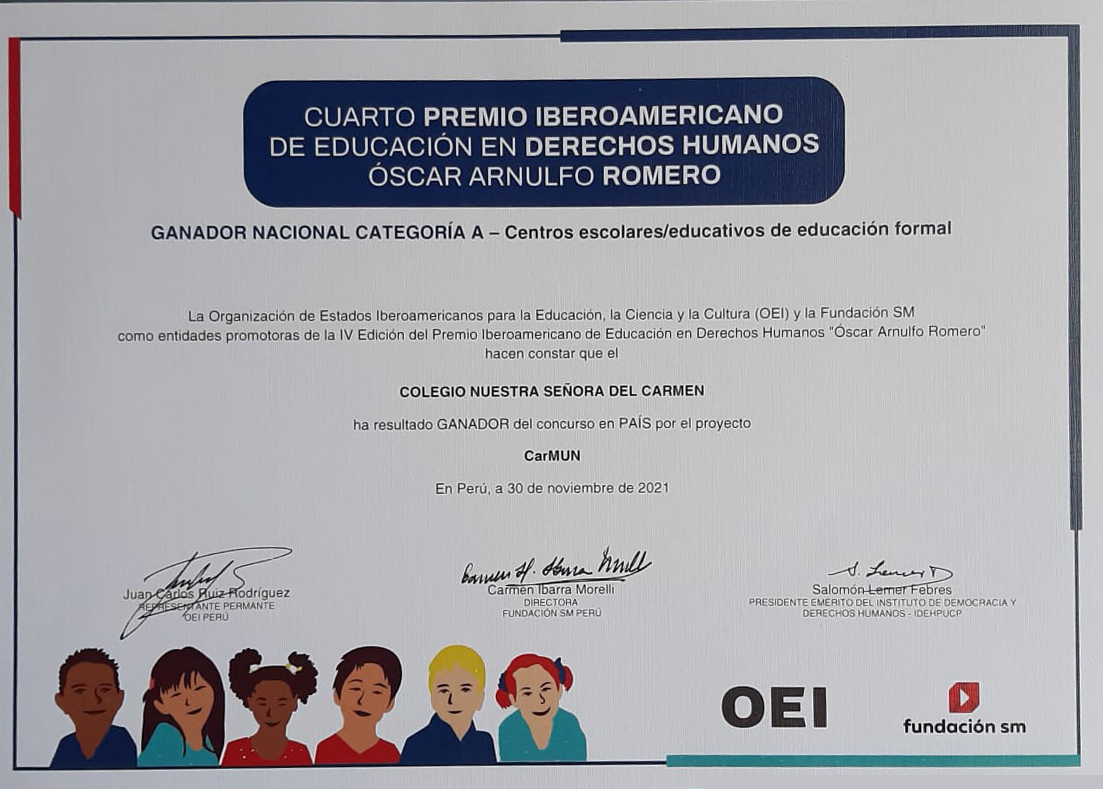 The Nuestra Señora del Carmen School, with the CarMUN Project, is the national winner of the Ibero-American Prize for Human Rights Education Óscar Arnulfo Romero, and will represent Peru in the international competition for the aforementioned award.
The Organization of Ibero-American States for Education, Science and Culture (OEI) and its Ibero-American Institute for Human Rights Education, with the collaboration of the SM Foundation, created in 2015 the Ibero-American Award for Human Rights Education Óscar Arnulfo Romero, Saint, Bishop and Martyr to promote awareness of education in values and human rights in Latin America.
The call is aimed at rewarding institutions that have actively worked in the defense and promotion of human rights, through education and pedagogy.
Two categories of participants are established:
CATEGORY A
School / educational centers of formal education (between 3 and 18 years old).
CATEGORY B
Civil society organizations linked to non-formal educational work (NGOs, associations, foundations, etc.).
The first phase of the award consisted of a national call that recognized the work of institutions that actively work in the defense and promotion of human rights.
The winning experiences by category, at the national level, will participate in the Ibero-American call and will attend the IV International Seminar on Human Rights Education, which will be held in a city and date still to be determined and where the four winners of the Ibero-American level (two per category) will be chosen. Due to the context of the global pandemic, the event will be held when circumstances allow.
Thanks to our students Mariano Alvites, Daniela Rios, Mauricio Noriega, María Gracia Ponce French and Juan Diego Coronel and to the advisors Daniel Huapaya, Eilin Noriega and Alberto Varela for their effort and teamwork in preparing this project.