Last weekend (July 16th to 18th) our CARMUN delegation participated in the Model United Nations of the South (MUNSUR) Arequipa 2021, obtaining for the second consecutive year, the title of Best Large Delegation.
Our outstanding delegates were awarded Best Delegate, Outstanding, and Honorable Mentions.
They left the name of the Carmelitas School very high and proved to be very well trained by the Faculties team: Alberto Varela, Eilin Noriega and Daniel Huapaya.

On this occasion, our Delegation was made up of:
Luciana Merediz
Fabio Zegarra
Mariana Aldave
Luciana Palomino
Juan Diego Coronel
Leonardo Macchiavello
Fabricio Flores
Daniela Malpartida
Daniela Villanueva
Adriana Arana
Santiago Vilches
Macarena Arana
Fabiana Pérez
Likewise, it should be noted that our delegate Fabio Edmundo Zegarra Gálvez obtained among almost 200 participants in this event, the title of YOUNG LEADER OF THE BICENTENNIAL.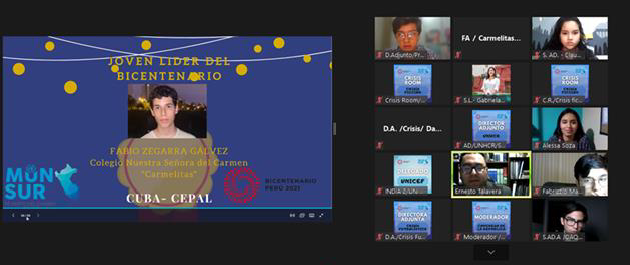 Congratulations for being a pride for our institution.